Divorce Recovery Workshops
Divorce Recovery Workshops in Westlake Village, CA
Renewed Woman: Learn to Embrace Your Imperfect, Beautiful Life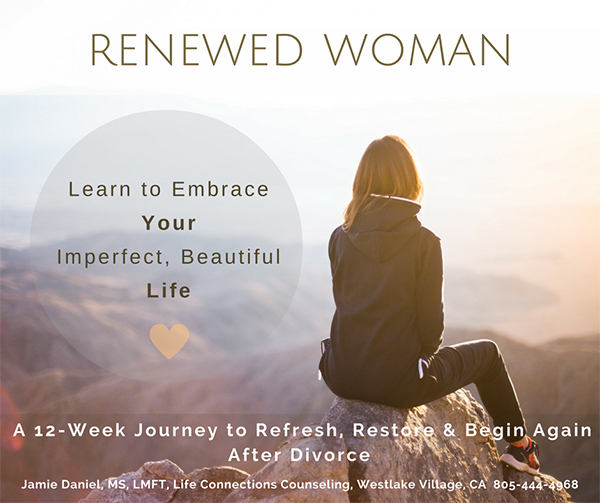 Are you a midlife woman who's experienced a divorce?
Would you like to break free from its story and be able to truly embrace life and find joy again?
For many women, a divorce at midlife can become a defining moment. And for some, its impact can create an emotional struggle that's difficult to break free from, keeping you from experiencing a joyful life.
Join us on this refreshing and restorative 12-week experiential journey toward wholeness, a new awareness, and develop a rich, new narrative for your life. One that brings you back to JOY.
This workshop is best for: Women in Post-Divorce Recovery; 2 – 5 Years Post Divorce.
HOPE Divorce Recovery Workshop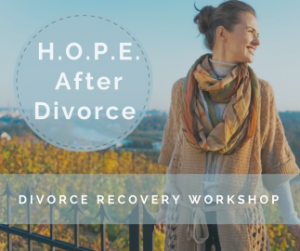 Are you in the process of your divorce and feeling overwhelmed by the roller coaster of emotions?
Would you like to learn some life-changing tools to help you get from a place of incredible emotional pain to feel more hopeful and confident about yourself and your life?
Please join this transformative 9-week workshop, feel the immediate benefits, and leap your recovery.
This workshop is best for: Women in the process of a divorce – up to 2 years post-divorce.
Here is a testimonial from just one of the many clients who has completed this workshop:
"I have been participating in the Divorce Recovery Workshop since May. It has been exactly the support and knowledge I've been looking for. Meeting others who are going through the same struggles as you are extremely helpful. Although our stories are different, the struggles we deal with are very similar. Jamie has been an enormous help in my recovery. I can honestly say I've moved forward in my life because of all the help and support I receive from Jamie's coaching and the support group. If you are honest with yourself and put in the work towards moving on you will move forward and become the best version of yourself. I highly recommend this!"
~ H.