Divorce Support Groups
for Women
Divorce Support Group for Women in Westlake Village, CA
H.O.P.E. After Divorce: A Healing Divorce Support Group for Women
HOPE STANDS FOR HEAL, OPEN-HEARTED, POWER-ON, EMBRACE
Ongoing, this group meets bi-weekly:
Tuesday evenings 6:30 pm – 8:00 pm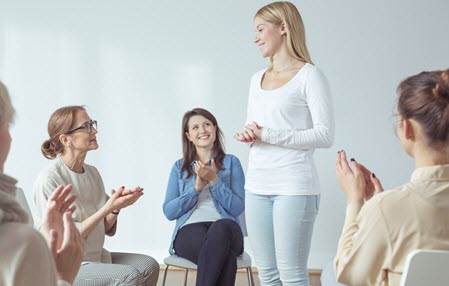 Our group was created to help women heal, grow and rebuild their lives after divorce. We seek to provide a safe and restorative space for women to share both their challenges and successes as they walk down the road to divorce recovery. Tremendous healing can take place when you support and are supported by others.
The fee for this group is $20.00 per attendance.
The group is limited to 10 people to foster a more personal atmosphere of trust and encouragement.

H.O.P.E. Divorce Recovery Workshop
Are you in the process of your divorce and feeling overwhelmed by the roller coaster of emotions?
Would you like to learn some life-changing tools to help you get from a place of incredible emotional pain to feel more hopeful and confident about yourself and your life?
Please join this transformative 9-week workshop, feel the immediate benefits, and take a leap in your recovery.
This workshop is best for: Women in the process of a divorce – up to 3 years post-divorce.
Call 805-444-4968 to RSVP or for more information
Testimonials:
Jamie, you are dedicated to your work and are very supportive. Thank you for your help. ~ S
Jamie, thanks so much for this group. It's my girls night out and has given me family in this group of women – lifelong friends."~ J
I love your passion and commitment for us."~ D
Thank you for all you give to help others who are in emotional pain going through the divorce process. ~ V
I have been participating in the Divorce Recovery Workshop since May. It has been exactly the support and knowledge I've been looking for. Meeting others who are going through the same struggles as you are extremely helpful. Although our stories are different, the struggles we deal with are very similar. Jamie has been an enormous help in my recovery. I can honestly say I've moved forward in my life because of all the help and support I receive from Jamie's coaching and the support group. If you are honest with yourself and put in the work towards moving on you will move forward and become the best version of yourself. I highly recommend this!
~ H.